Refugee Orchestra Project: Brunch Saturday September 23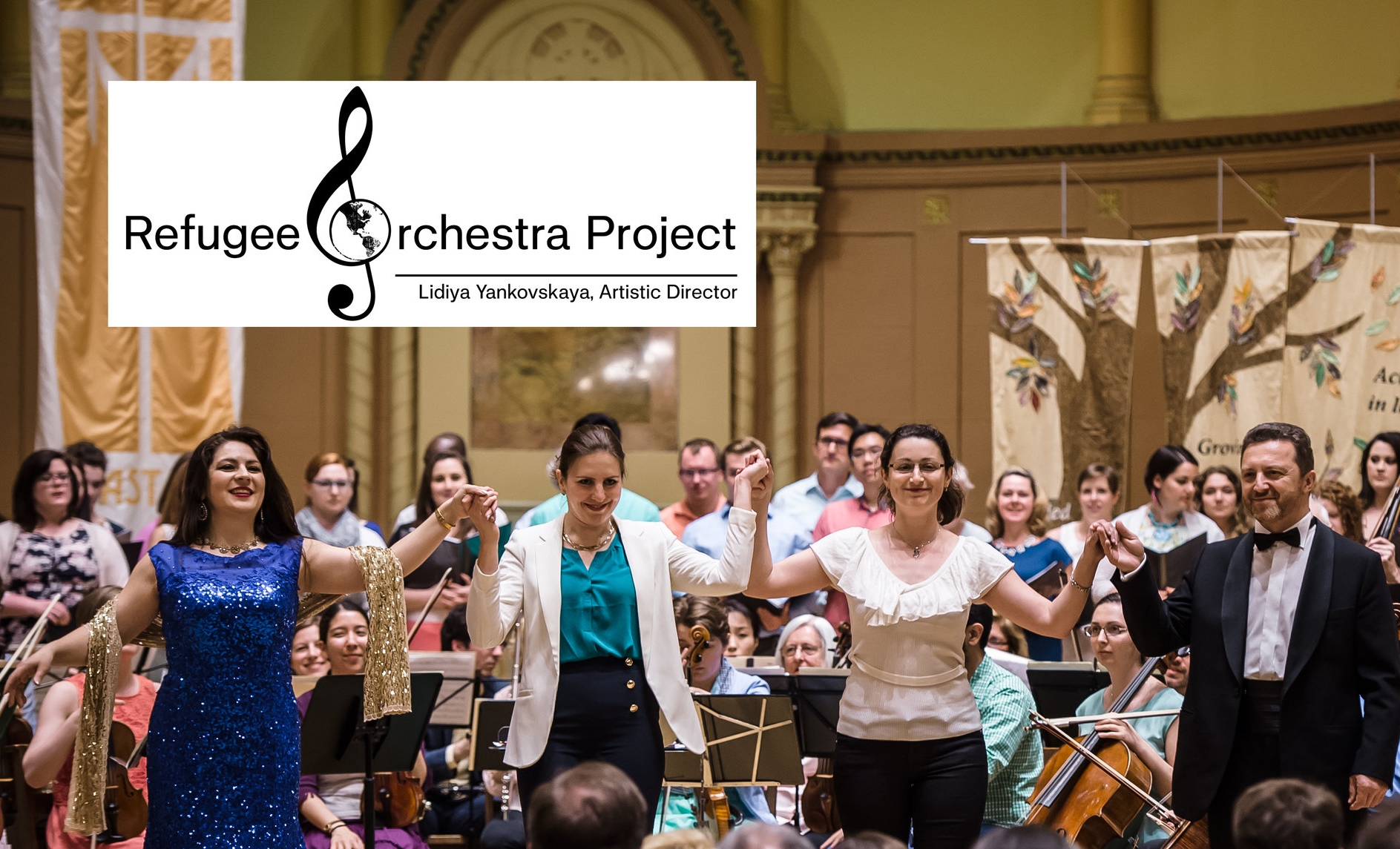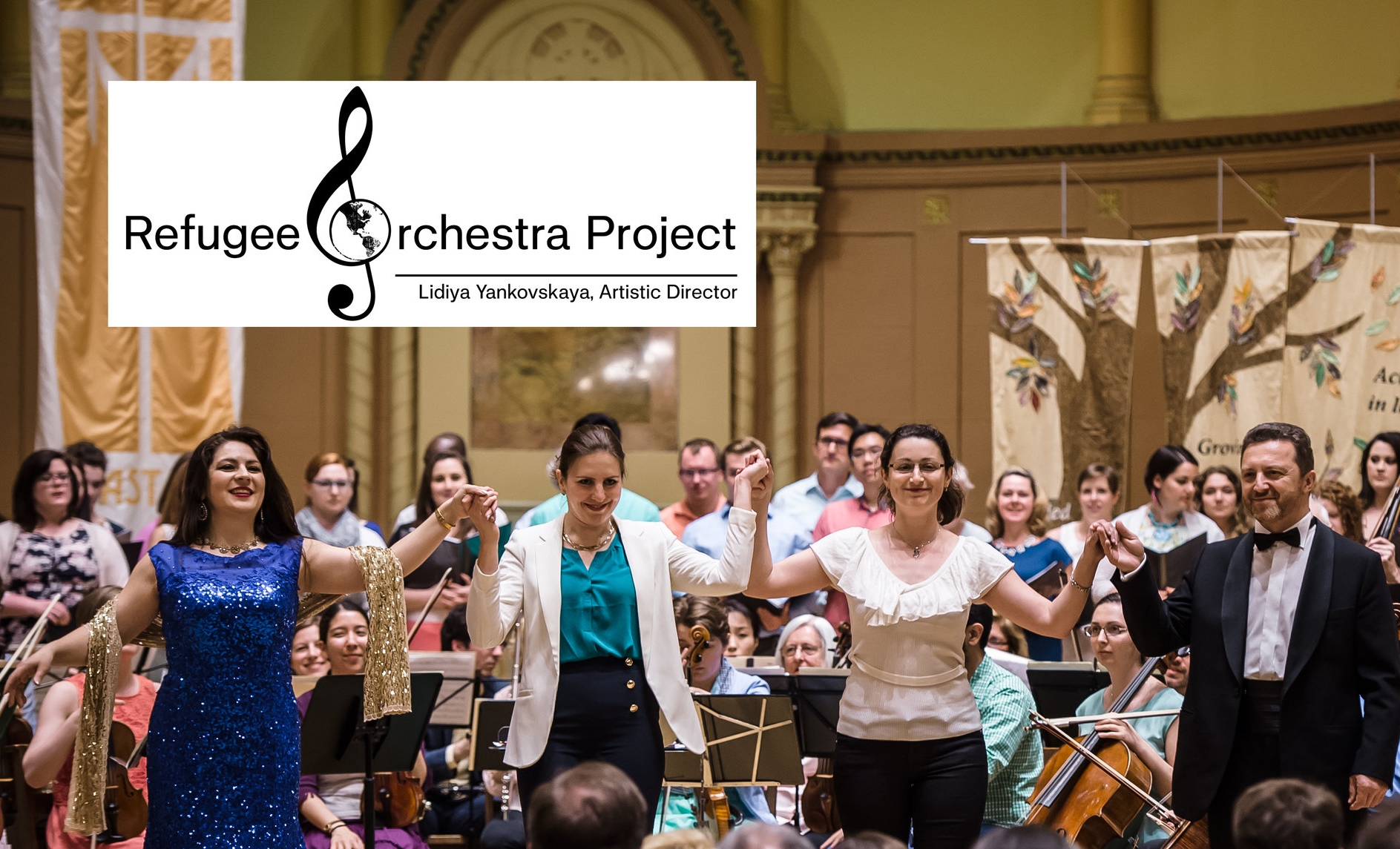 Refugee Orchestra Project: Brunch Saturday September 23
Sounds of the City joins with the Refugee Orchestra Project for a special end of season brunch concert.
Refreshments at 12:00
Concert 1:00
The Refugee Orchestra Project attempts—through music—to demonstrate the vitally important role that refugees from across the globe have played in our country's culture and society. Directed by Lidiya Yankovskaya, the Refugee Orchestra Project brings together instrumentalists and singers whose friends and families have fled to this country to escape violence and persecution in performances that loudly proclaim these individuals' importance to our cultural wealth. www.refugeeorchestraproject.org
The Refugee Orchestra Project attempts--through music--to demonstrate the vitally important role that refugees from across the globe have played in our country's culture and society. he project was conceived by conductor Lidiya Yankovskaya, who realized in the wake of the Syrian refugee crisis that many of her own closest colleague and friends were not aware that she and many others like her had come to the U.S. as refugees to seek asylum from violence and persecution abroad. Due to the traumatic nature of their experience, refugees are often hesitant to speak openly about their history, and it is common for people to be unaware that their neighbors, coworkers, and friends have been taken in by the United States as refugees at a time of crisis.
Proceeds are given to HIAS and IRC in support of asylum seekers abroad.
More information about the Refugee Orchestra Project can be found here: refugeeorchestraproject.org
Channing Yu, Associate Artistic Director of the Refugee Orchestra Project. has served as concertmaster of the Brahms Society Orchestra, leader of the Powers Community String Orchestra, violinist in the Boston Philharmonic, and first violinist of the Kitchen Quartet; he currently performs with Camerata Notturna in New York City. An orchestral and opera conductor, he is Music Director of the Mercury Orchestra in Cambridge, Massachusetts and national winner of the 2010 American Prize in Orchestral Conducting. As pianist, Mr. Yu was divisional grand prize winner of the American Music Scholarship Association International Piano Competition and has appeared as soloist with orchestras including the Pittsburgh Symphony Orchestra, Westmoreland Symphony Orchestra, Dayton Philharmonic Orchestra, and Orchèstra Nova. Anthony Tommasini of The Boston Globe praised his "imaginative piano work." A lyric baritone, he sings with New Jersey Verismo Opera and with the Tanglewood Festival Chorus, the Grammy award-winning chorus of the Boston Symphony Orchestra and the Boston Pops.
Jennifer Hsiao studied violin with Teri Einfeldt, Dorothy DeLay, Philip Setzer of the Emerson String Quartet, and others. She was concertmaster of the Princeton University Orchestra and first violinist of the Princeton University Quartet. She obtained a Masters in Violin Performance at the Yale School of Music, where she studied with Ani Kavafian. Ms. Hsiao has won numerous competitions and has performed concerti as both piano and violin soloist with numerous orchestras including the Princeton University Orchestra, Hartford Symphony, Farmington Valley Symphony Orchestra, Connecticut Youth Symphony, and Connecticut Virtuosi Chamber Orchestra. Jennifer is the organist of Old West Church in Boston, MA, where she plays at weekly services. She has played in recitals in the Boston area and has performed as a guest organist with the Bay Colony Brass. Ms. Hsiao graduated from Princeton in 2007, with an A.B. degree in Chemistry and certificates in Latin and Music Performance (on both violin and piano). She is now a PhD student in Biological and Biomedical Sciences at Harvard University, where she also serves as concertmaster of the Dudley Orchestra and Resident Music Tutor at Dunster House.
Violinist/Violist Elaine Leisinger was born in Boston. She holds a B.M. in Viola Performance, with Performer's Certificate, from the Eastman School of Music; a B.A. in Mathematics from the University of Rochester; and a M.Ed. from UMass-Boston. When not teaching math, she can often be spotted performing with orchestras such as Symphony New Hampshire, the Boston Philharmonic, and the Mercury Orchestra. Also an avid chamber musician, Ms. Leisinger is co-founder of the Haydn Enthusiasts, which is dedicated to the performance, study, and appreciation of Haydn's string quartets.
Originally from St. Louis, MO, Mikiko Fujiwara began her cello studies at the age of two, and studied with members of the St. Louis Symphony and Hans Jorgen Jensen of Northwestern University before moving to Cambridge, MA to study biology at Harvard University. Among others, Ms. Fujiwara is a winner of the ASTA National Solo Competition, the Bischoff National Chamber Music Competition, and the NFA ARTS Competition. She has also soloed with various orchestras including the St. Louis Chamber Orchestra and the St. Louis Symphony Orchestra. Throughout her career, Ms. Fujiwara has had the opportunity to work with acclaimed cellists Ronald Leonard, Richard Aaron, Ralph Kirschbaum, Pieter Wispelwey, and Yo-Yo Ma, as well as with members of the Brentano Quartet, Borromeo Quartet, Lydian Quartet, Takacs Quartet, and Juilliard Quartet. Currently, Ms. Fujiwara works in publishing and enjoys playing in various Boston area orchestras. She is also an avid chamber musician and regularly performs with many collaborators in Boston and New York.